Details

Published: 27 February 2021

27 February 2021
Plans for the Green Mountain Lions Camp are underway. For details see GMLC_March_Communique.pdf.
Details

Published: 27 February 2021

27 February 2021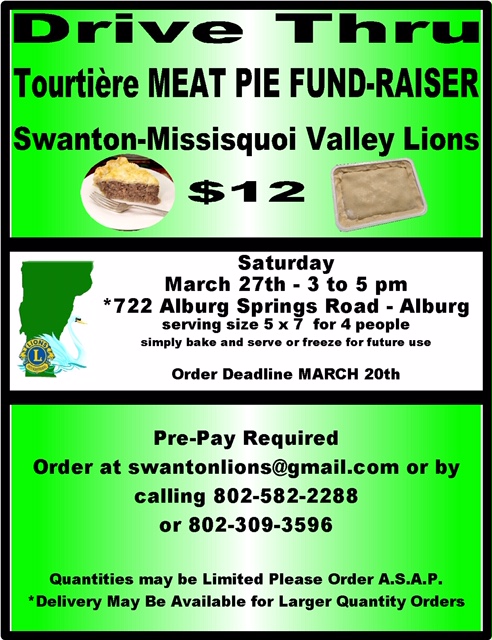 Details

Published: 24 December 2020

24 December 2020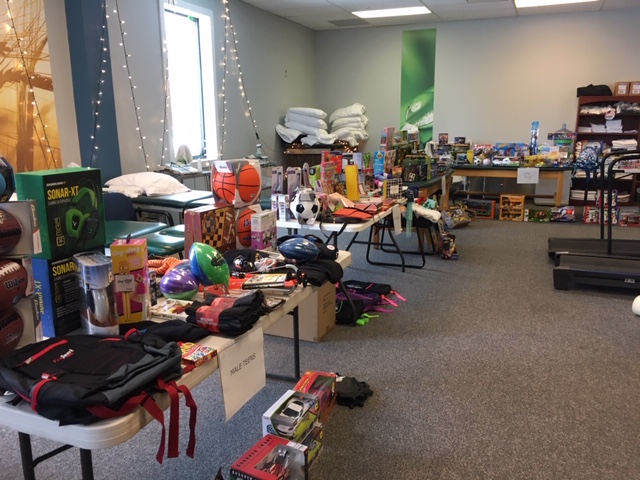 The Vergennes Lions report that this year's Toys for Kids Drive was an enormous success with over 190 children in the Vergennes area receiving toys or gift cards at Christmas, as well as stocking stuffers. This would not have been possible if it had not been for the many generous people dropping toys and money in the red barrels at One Credit Union, Dollar General, Jackman Fuels, Kinney Drugs, Long Trail Physical Therapy, Shear Cuts, Ferrisburgh Bake Shop, and Porky's BBQ. One woman from Weston, MA, whose brother-in-law is a Lions Club member made a sizeable donation. Another woman whose sister-in-law is a Lion also made a sizeable donation. In addition, WOW Toys in Vergennes donated over $500 worth of toys toward the effort. A Vergennes resident dropped off two new guitars, still in their boxes, and an anonymous Santa for the second year in a row donated two new bicycles with helmets.
Project chair, Lion Susan Hayes, said, "We have never had this many toys donated." This project is conducted each year, in cooperation with the Marine Corps League, to make sure no children go without a few Christmas presents. Michael DiPalermo, owner of Long Trail on the Falls Physical Therapy, donated the use of his facility for three days where parents could come in and pick out two toys and some stocking stuffers for each of their children. Special thanks also to Lynn Brigan, the Administrative Assistant at Long Trail, for devoting these three days to working with Lions Club members to make this possible.
Many of the parents said there would have been no toys for their children if it had not been for this effort. Toys were available for pickup this past Friday, Saturday and Sunday. Many thanks to all!
Details

Published: 15 December 2020

15 December 2020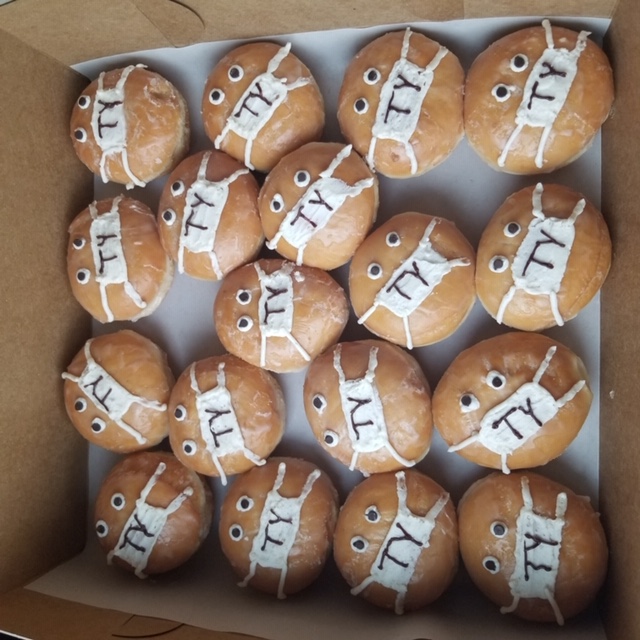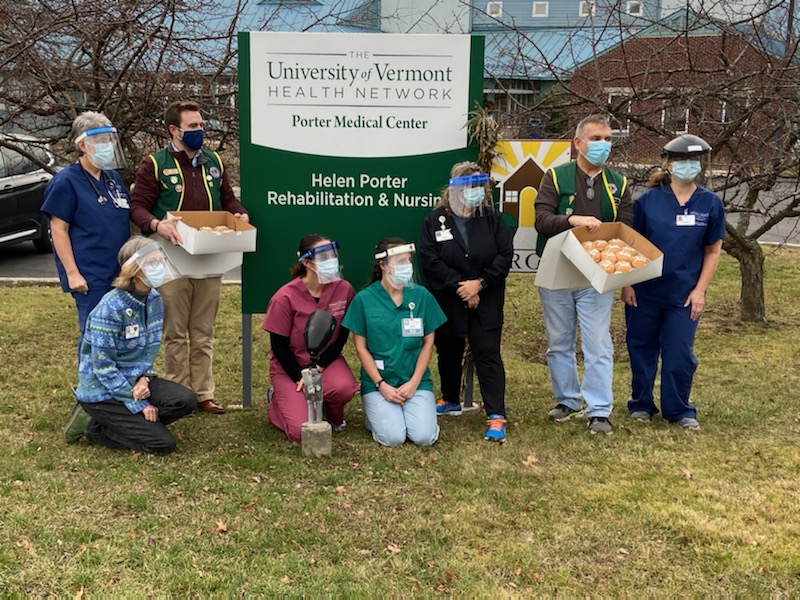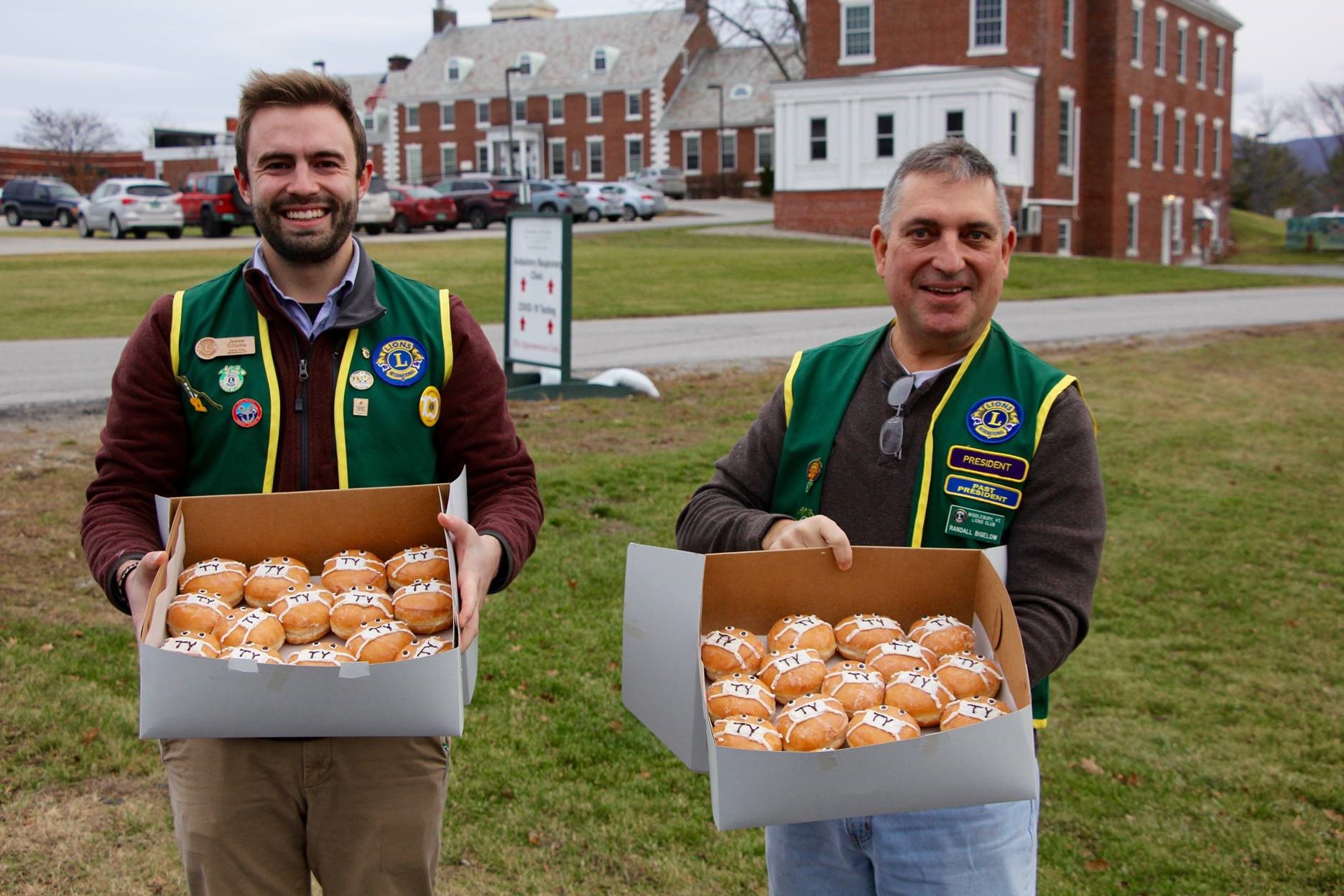 In appreciation of all that local front-line workers do to serve our community, the Middlebury Lions have made a delicious donation to the nursing staff at Helen Porter Rehabilitation & Nursing. This donation was 3 dozen COVID-inspired doughnuts. Middlebury Lion Randy Bigelow worked with Lindsay of Middlebury Bagel & Deli to create the edible artwork. King Lion Jesse Gillette and Director Randy Bigelow presented the doughnuts to the nursing staff on a crisp Friday morning.