Details

Published: 19 April 2018

19 April 2018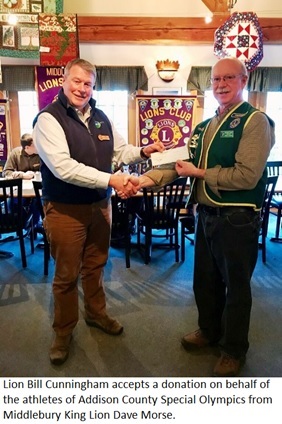 Many thanks from Special Olympics
On behalf of the athletes of Addison County Special Olympics, we thank the Middlebury Lions Club for their generous donation which will help to provide opportunity for 65 athletes to demonstrate their abilities. Special Olympics Vermont offers year round sports training and competition opportunities in 13 Olympic-type sports. Through sports training and competition the athletes develop physical skills and healthy life habits, but most important have fun. Friendships made and the sportsmanship demonstrated, brings smiles to the athletes, the volunteers, the coaches, and the parents. As every Special Olympian knows; "Let Me Win, But if I Cannot Win, Let Me Be Brave in the Attempt.
Be sure to look at the volunteer opportunities available with Vermont Special Olympics. The "Opening Eyes program" of the Vermont Special Olympics is again looking for Lions volunteers. Check out their invitation here.
Details

Published: 17 April 2018

17 April 2018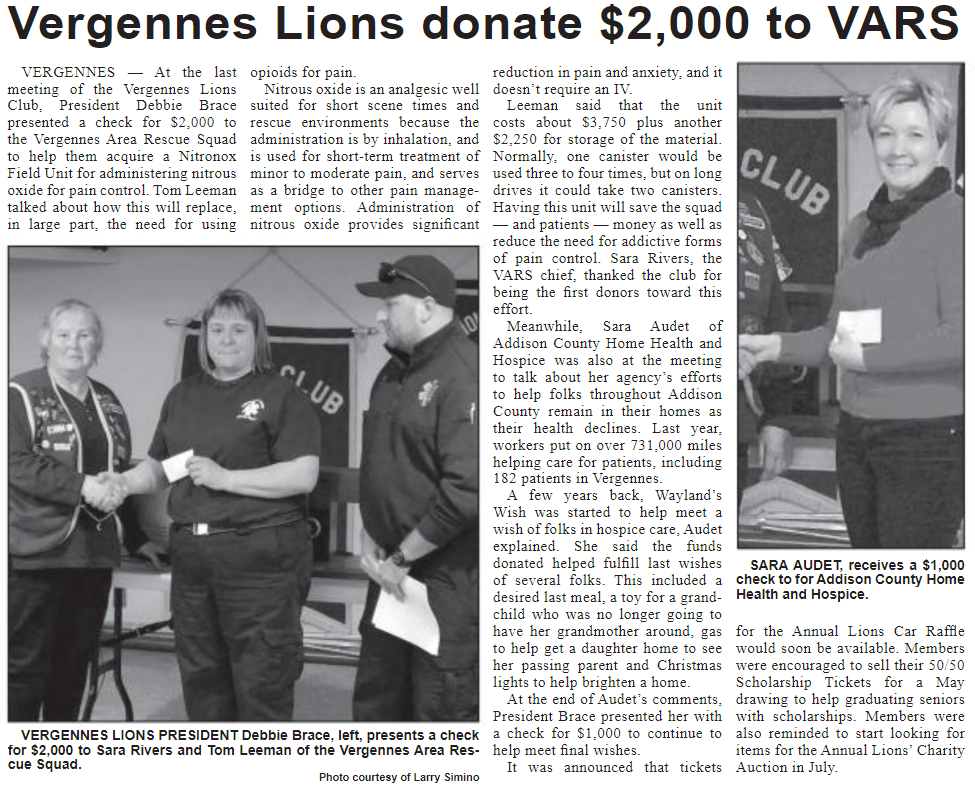 Story courtesy of the Addison Independent
Details

Published: 08 April 2018

08 April 2018
Family fun at Bayside Park
Colchester Lions Club, in partnership with Colchester Parks & Recreation, sponsored the annual Easter egg hunt at Bayside Park. Children were separated by two age groups: 4 and under hunted Lower Bayside Park, ages 5 -8 hunted Upper Bayside Park. Over 3000 eggs were 'stuffed' 'hidden' and 'found' during this event. The 'Easter Bunny' arrived, giving photo opportunities for the children making memories that will last for a long time. The Colchester Lions Club also hosted its annual food drive for the Colchester Community Food Shelf, collecting just shy of 250 pounds of food, with an undetermined amount of cash donations.
The Colchester Lions Club would like to thank the Colchester High School Honor Society and the Colchester Boy Scout Troop 601 for their assistance over the weekend. The club would also like to thank the St. Michael's Fire and Rescue for having a 'special connection' to the Easter Bunny. Thanks to Colchester Parks and Recreation for their continued support of this great event. Please see Colchester Lions Club Facebook page for more photos.
Details

Published: 22 August 2017

22 August 2017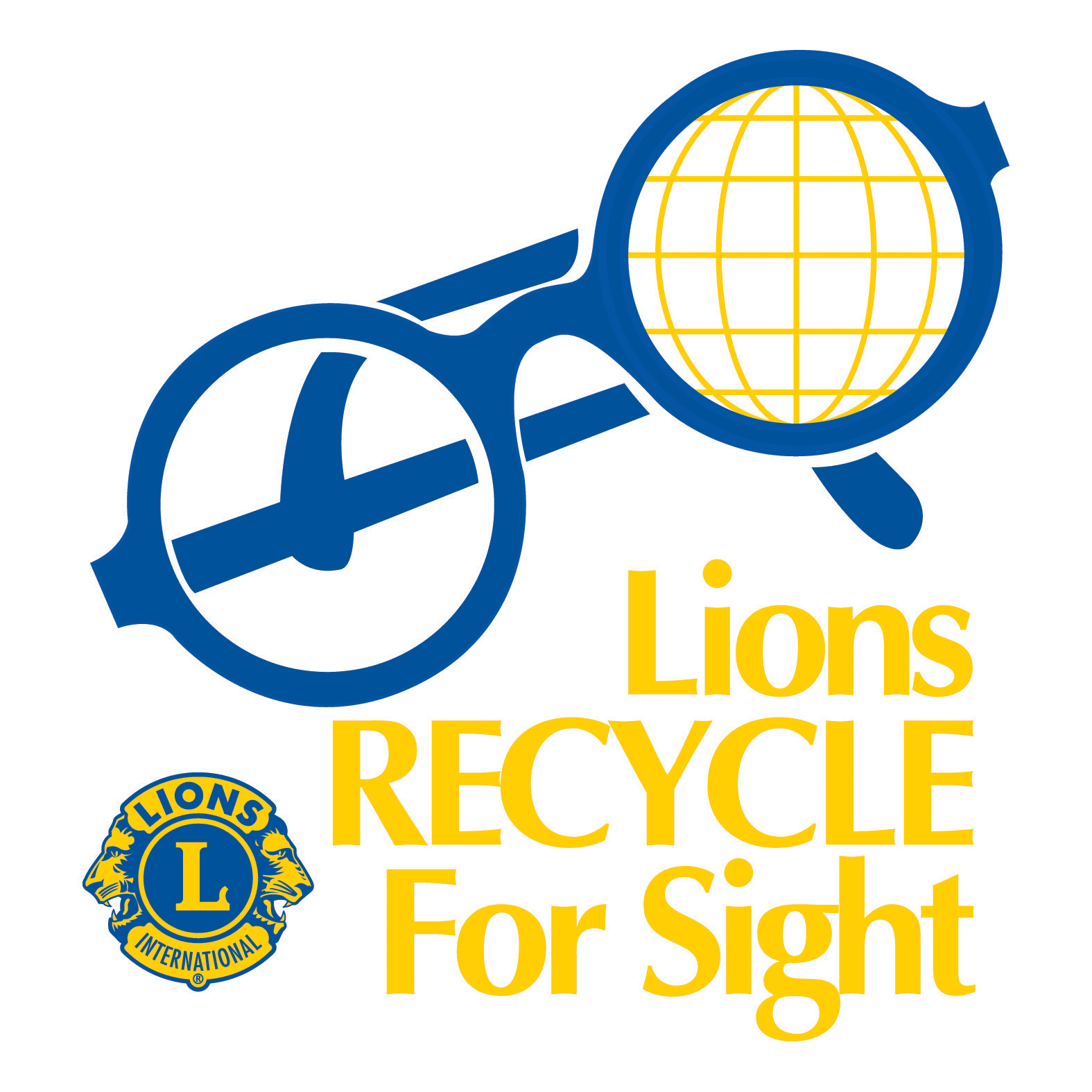 District 45 recycling zone
Glasses were again dropped off at the March Cabinet meeting, bringing the district's current total to 16,536. Label your boxes!!! We are still waiting to hear from many clubs to update the district's Eyeglass & Hearing Aid Recycling Drop Box locator so that visitors can locate a drop box nearest to them. Please check out the list and email updates to Lion Randy. We are on track to have a record year!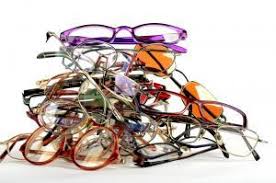 Details

Published: 20 September 2017

20 September 2017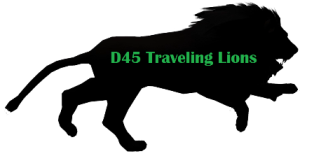 Fellow Lions,
Travel Season is FINISHED! Lucky has decided to summer over with Jericho-Underhill along with Tucky from Region 1. In Region 2 the General will summer with Granville Lions. In Region 3 Sir Charles has circled back to Norwich and will summer there. In Region 4 Bucky has been transferred to Derby for the summer.
Traveling Lion location and capture information - Final FY17/18 points status
Have fun and learn what our fellow Lions are doing. Please contact me with capture information at travelinglion@vermontlions.org or 802-759-2448. Thanks. PDG Larry Simino
Details

Published: 03 September 2017

03 September 2017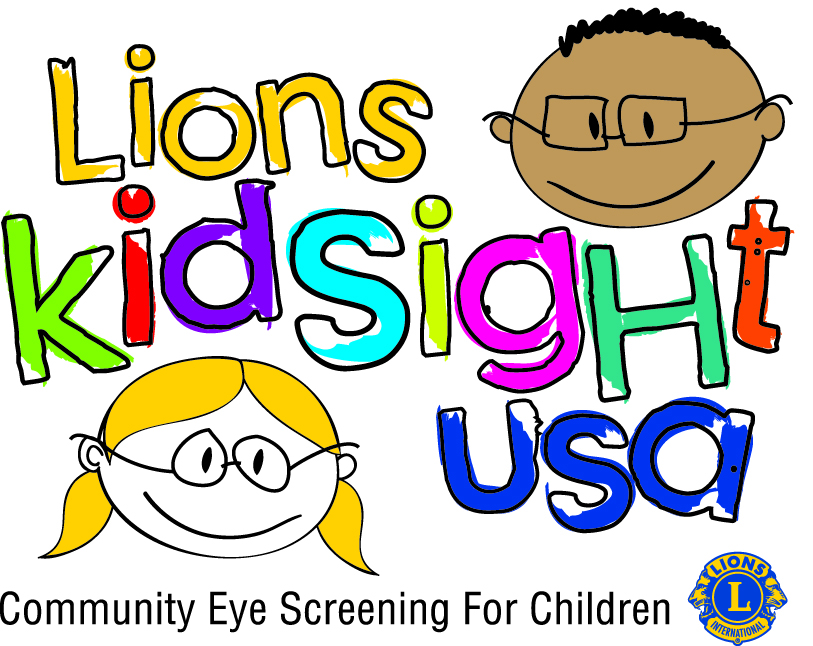 FY 2017/2018 Screening Results

Over 23,000 Individuals Served!