Details

Published: 18 July 2018

18 July 2018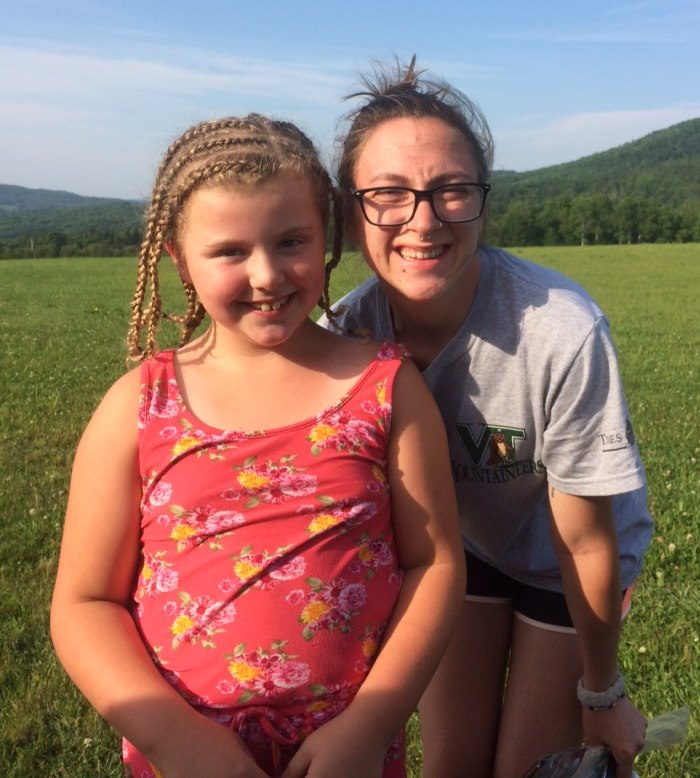 Understanding the true value of our gift
This year the Essex Lions Club sponsored Marlee to attend the Green Mountain Lions Camp. For many of the campers this is a rare occasion to be surrounded by other youths that share the bond of using American Sign Language as their primary language. I met one camper's father who helped me to understand the significance of this gift. Outside of camp his son's only opportunity to improve his signing comes through interaction with his signing parents and those signing enhancement opportunities that they can provide. Both of his parents have their hearing and had to learn to sign, but their signing isn't as good as it could be. Like all Vermont deaf youths their son was mainstreamed into public school, but their son's public school interpreter isn't even as proficient as the parents are. As of 2017 Vermont and Maryland remain the only two states who have yet to establish a certification process for Public School ASL interpreters. Many public schools view ASL interpreters as paraprofessionals and their actual ASL skillset may be quite lacking. Camp truly is a place where these kids can learn and grow.
With that in mind here is a photograph of Marlee (on left) on her first day at Green Mountain Lions Camp in Cabot. It's a great reminder why we Lions strive to assist our community.
This week, the 22 GMLC campers will participate in several activities including horseback riding, Circus Smirkus, on site swimming and boating and of course home cooked meals and evening camp fires.
The last day of our 2018 camp is this Saturday 7/21. If you have time please join us for lunch and a quick clean-up after.
We Lions provided an unparalleled summer experience to 32 kids that will help them learn and grow throughout their lifetime. Camp is providing a foundation of language skills and friendships that are priceless. THANK YOU FOR YOUR SUPPORT!
Details

Published: 14 July 2018

14 July 2018

For 24 years, the Basin Bluegrass Festival has rocked on in Brandon, Vermont. This annual family-friendly summer festival features a weekend of acoustic bliss in the beautiful Vermont countryside, complete with local vendors, overnight camping, and, of course plenty of bluegrass pickin' performances. Kids and pets are welcome, as is anyone looking for a locally laid-back good time.
Pictured at the Brandon/Forest Dale Lions Club Ice Cream Tent are lions: Connie St George, Bruce Blanch, and Don Crichton. At the ice cream freezer are lions: Gary Gorton and Jackie Dutil.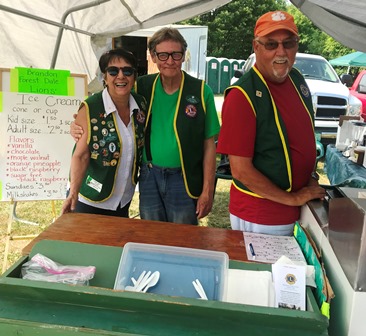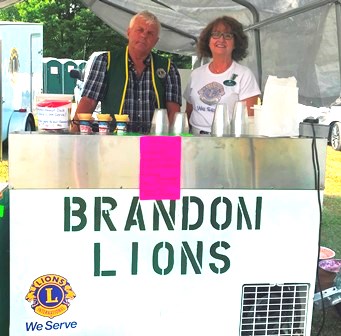 Details

Published: 13 July 2018

13 July 2018
SERVICE PROVIDED & HONORED
In 1977 Lion Art Pfenning became the Charter President of the newly formed Brandon/Forest Dale Lions Club. He was instrumental in building and leading the young club, and he remained an active member and strong advocate of community service until his recent death this summer. Both Art and his wife Jean were presented Melvin Jones Fellowship awards in 2009. Jean was the first non-Lion to be so honored in the Brandon/Forest Dale service area.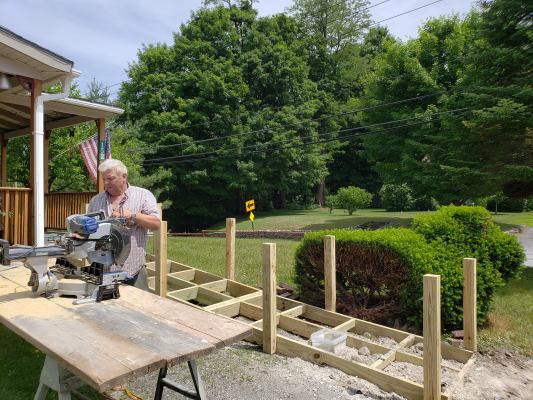 Recently the club learned that Jean had taken ill and was in need of a handicap ramp for safe access to her home and sustained quality of life. The club unanimously voted to assist Jean by building the ramp. Lion Gary Gorton spearheaded the project. He and lion Connie St George were then able to build the ramp in one afternoon. "Art and Jean Pfenning have done so much for our community; it was a pleasure to be of service to Jean. I'm pretty sure Art was there overseeing the project" said Lion Connie.
Details

Published: 09 July 2018

09 July 2018
Barre Lions Legacy Project dedicated
In 2017 Lions International in celebrated their Centennial: 100 years of service across the World. There are 46,00 clubs worldwide and over 1.5 million members. We are the largest service club in the world. Each club was asked to select and develop a Legacy Project in their area to celebrate The Centennial.
Members of The Barre Lions Club explored a number of options. Many of the members attend the summer concerts in Currier Park and have witnessed the performers playing the National Anthem, even though there was no flag in the park. We decided a lighted flag pole in Currier Park would be our project.
We consulted with Jeff Bergeron of Parks and Recreation for approval and guidance while researching flag pole options. Late last fall we were underway. In addition to the pole we wanted a granite marker to commemorate our work. We turned to Buttura and Gherardi for help and they designed a beautiful marker and donated their work. The flagpole we selected from Montpelier Stove and Flag Works has a chrome light and Bob Norway, a Barre Lion, volunteered Norway and Sons to do the wiring. Montpelier Stove and Flag Works donated the American and Vermont State flags that adorn the pole. Now it is spring and time to bring it all together.
Harry Hinrichsen, another Barre Lion, provided guidance on a location. Scott Norway of Norway and Sons volunteered to oversee the project. He contacted Kyle Bellevance of K. Bellevance Land Works and Hauling to do the excavation and related clean-up work, which he did at no cost to the club. Next we needed concrete for the base and flag assembly. Scott contacted EF Wall, founded by deceased Barre Lion Bob Lord Sr., who was happy to donate time and materials. They completed their work in early June. The final step was to set the marker and this task was completed on June 20th with donated time and equipment from Calcagni and Sons, founded by Joseph B. Calcagni, another Barre Lion.
The Flag Pole stands in a place of honor in Currier Park as a symbol of freedom and will be there for many years to come when the National Anthem is performed. This Legacy Project involved teamwork and community. The Barre Lions Club will be forever grateful to all those who made this project possible. There was an official dedication of the Flagpole on Wednesday, July 11th followed by a free public concert at 7 PM.