Details

Published: 23 August 2021

23 August 2021
Welcome Center Fund Raiser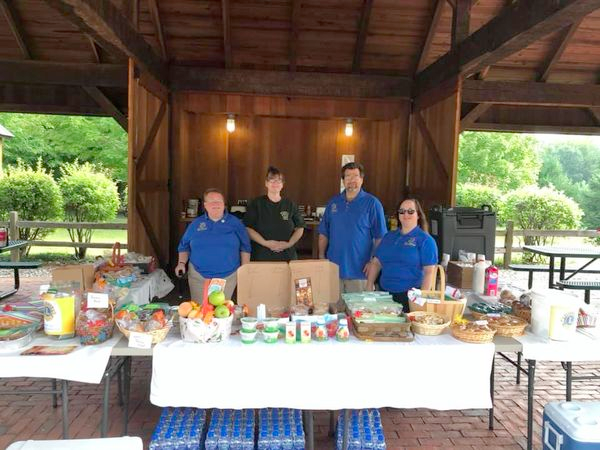 On September 25 the Brattleboro Area Lions Club (BALC) will at the I-91 Welcome Center to offer food to travelers coming into Vermont. In return we accept donations. We have been privileged to have been allowed to carry out this fund raiser four times.
BALC is a small club and we will be challenged to provide enough food and snacks for the guests who stop at our table. If there are members of other clubs who would like to donate food or snacks we would be very appreciative. All food and snacks have to be packaged in plastic bags so individuals can choose what they want safely.
If you decide to lend us a hand, you can contact me at This email address is being protected from spambots. You need JavaScript enabled to view it. to arrange a pick up or drop off.
Over the past 3 years we have struggled to get more members and continue to work on increasing our membership. When The Austine School for the Deaf closed we lost a lot of members who moved away from Brattleboro to find employment elsewhere. We have managed to stay afloat but sometimes need a life saver thrown to us. Might you be one who tosses some cookies our way?
Details

Published: 13 August 2021

13 August 2021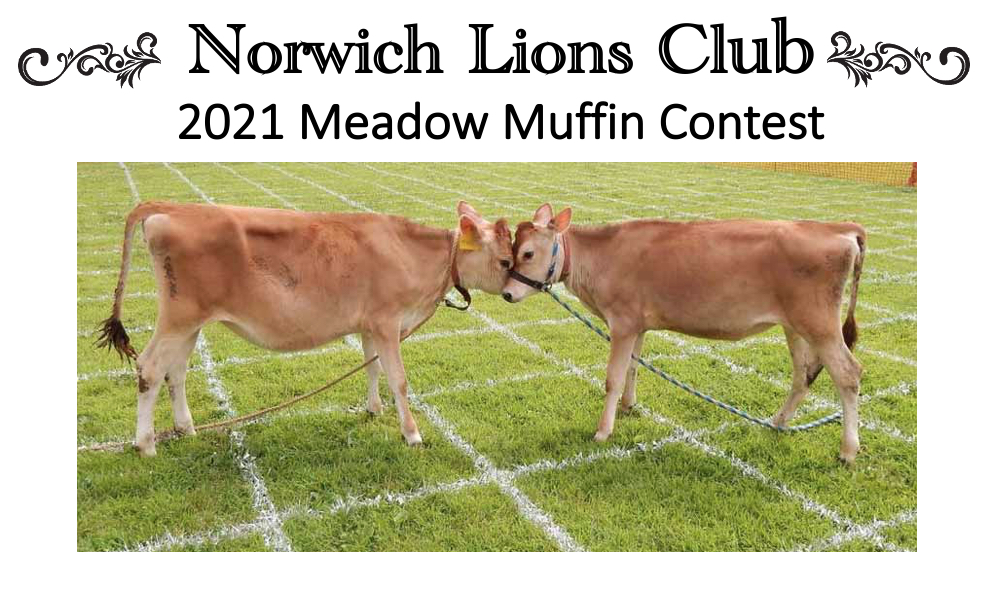 The Norwich Lions Club Meadow Muffins contest is a popular annual tradition, whereby participants "buy" one or more numbered plots of land in a fenced-in area for $20 each, for which an assigned, randomized number matching a corresponding "deed" has been assigned to each plot.
This year, the contest is on line at: https://www.32auctions.com/MeadowMuffins2021,
Look for the green VIEW ALL ITEMS buttons to pick a deed number to buy. (Deeds are displayed 50 at a time, so use the buttons to see higher-numbered deeds.) If you want to buy MULTIPLE DEEDS, click on the "Watchlist" heart associated with each and they'll be waiting for you to purchase after clicking on the "Watchlist" heart at the top. Your credit card purchase will complete the process and make you eligible for the contest.
On October 9, up to three heifers will be brought into an enclosure with the plots laid out in a grid to determine the winner and runner-up by depositing a "meadow muffin" on the square of two lucky prize recipients!
First Prize: $1000 (1 in 500 chances)
Second Prize: $500 (1 in 499 chances)
Third Prize: The satisfaction that you contributed to a good cause! (498 in 500 chances)
If you are a winner, you will be notified by email or phone.
Three impartial judges will be appointed to oversee the contest. In case circumstances prevent a meadow muffin deposit from determining the winners on the appointed date, the judges will draw the winning numbers from among the tickets sold. In case of errors in the sale of the Meadow Muffins, the judges will determine a fair outcome.
The contest raises funds to support community organizations, as described at www.norwichlionsclub.org and summarized, below.
In addition to providing glasses and hearing aids to people needing them in the community, auction revenues allow the Norwich Lions Club to provide support to Upper Valley organizations.
2021 grants included the following recipients (of 35):
• Norwich Nursery School: STEM Learning Materials
• Good Beginnings of the UV: Education Support Program
• Vermont Association for the Blind: Smart Device Training Program
• Bugbee Senior Center: Bugbee's Digital Renovation
• Upper Valley Haven: Feeding Hungry Children in the Upper Valley
• Norwich Community Nurse: Medical Equipment
• Willing Hands: Healthy Fresh Food Boxes
• The Family Place: Children's rain suits for Early Care and Education
• Norwich Public Library: Expanding Digital Collections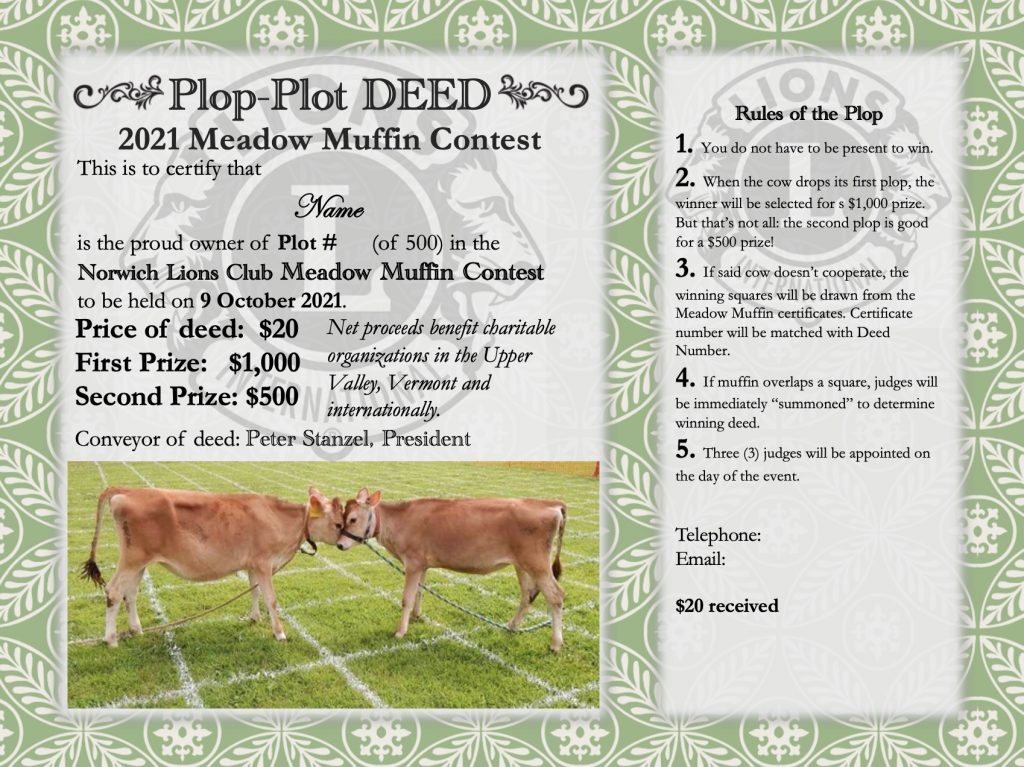 Details

Published: 28 May 2021

28 May 2021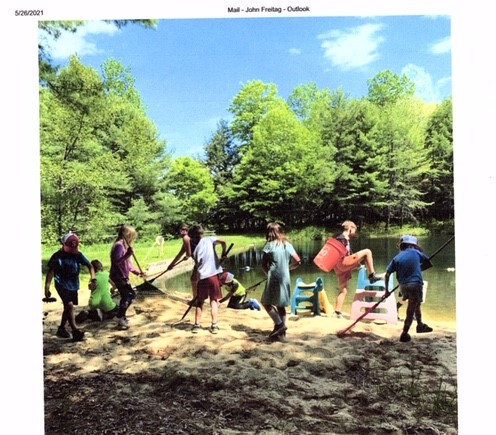 The Next Generation of Volunteers:
Newton Elementary School 2nd grade students, who have been using the Strafford Area Lions Club Pond for Nature Study this year, spread a newly delivered load of sand this month.
Their teacher, when asking if her students could help, said, "We've been talking a lot about taking care of our community and looking for ways to help in our community.
This feels like a tangible thing to do for the second graders to feel like they are helping take care of a place they love."
Details

Published: 26 April 2021

26 April 2021
There are 2 quickly approaching events from the Deerfield Valley Lions.
Open House, Sunday May 2, 11-3 at the Chamber of Commerce in Wilmington VT. A way to introduce Lions to those interested in the community, socially distanced. Check out the poster Open_House_Flyer_3_4-6-21.pdf and find more information in Open_House_2021.pdf . Chaired by our Membership Director, Jenn Beach, from the Deerfield Valley Lions.
Deerfield Valley Lions Tag Sale, Saturday May 22 (rain date 5/23) 9-3 at the Whitingham Municipal Center in Jacksonville VT
Raising money from the public for our charity causes.
Raising money from members for our Admin fund (sales from members to members)
+ Includes a bake sale and raffle sales.
Lion Darlene Betit in charge.
For more information about the Deerfield Valley Lions see our website: Deerfield Valley Lions Club