Details

Published: 02 August 2020

02 August 2020
Brattleboro Food Donations
The Brattleboro Area Lions Club has had a food donation box at Hannaford Grocery for 3 years. Until the Covid-19 virus hit we donated the food to the Guilford Central School Food pantry. Following the outbreak of the virus we decided to donate the food to Ground Works, a local food pantry. On Sunday we picked up the food and delivered 430 pounds of donated food to Ground Works. Our Guilford School deliveries were 126 pounds, 94 pounds and 67 pounds. We thank Hannaford Grocery for their dedication to helping others.
- Ray Stevens - Publications manager
Details

Published: 13 July 2020

13 July 2020
Lion of the Year
Brenda Seitz is presented with the Lion of the year award for 2019 during the D45 end of the year meeting conducted over Zoom.
Details

Published: 20 June 2020

20 June 2020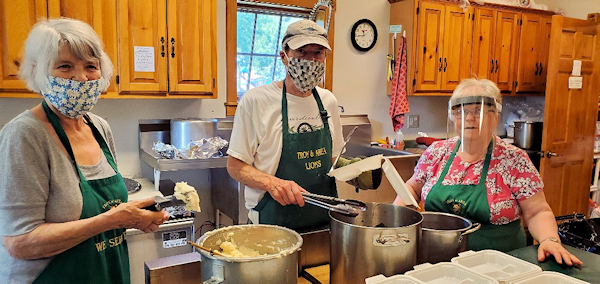 Lions Serve at Westfield Community Center
I am once again so proud to be part of the Troy & Area Lions Club. Denny Lyster who is in charge of the Westfield Community Center Meal Site, and his team of volunteers have been serving on average 55 people a week a hot lunch every Thursday via curbside service at the Westfield Community Center.