Details

Published: 18 January 2018

18 January 2018
Grace Cottage Patients Benefit from Vermont Lions Donation
Several members of Vermont Lions Clubs from throughout Vermont and Vermont Lions Charities presented a check to Grace Cottage Hospital on Wednesday, January 17th in the amount of $13,250 to complete the hospital's effort to fund four new generators for Grace Cottage Hospital's campus.

The donation was the result of an interesting sequence of events. Taylor Young at WCAX-TV (Channel 3, Burlington) had seen Grace Cottage's Facebook post about the fundraising campaign for four generators, which would enable the hospital to continue operations during power outages. Taylor traveled to Townshend to do a story, which aired three times on WCAX on January 8th. Way up on the Vermont/Canadian border, Connie Laplume of the Troy & Area Lions Club saw the WCAX newscast, and e-mailed Vermont Lions Charities President Stan Patch, who also saw the story air on WCAX and put out a statewide plea. As a result, a $10,000 donation was made from Vermont Lions Charities, with the balance coming from the Troy & Area Lions Club, Valley Lions Club, and Londonderry Tri-Mountain Lions Club.
Details

Published: 18 January 2018

18 January 2018
Learning about how Lions can fight Diabetes
Our very special guest speaker at a recent Vergennes Lions meeting was Colin Foster. Colin was joined by his father, Mark Foster, and he spoke to the club about his Type 1 Diabetes and how it has affected his life. Colin's parents acquired a German Shepard that is trained to detect the changes in smell when Colin has a sugar high or low, and alert Colin and those around. Their efforts to find the best dog for this job sent them to Germany, and they ended up buying the whole litter. Colin attended Camp Joslin, a summer camp in Massachusetts operated by the Barton Center for Diabetes Education, specifically for youth that live with Type 1 Diabetes. Many Lions clubs sponsor diabetic youth to attend camp Joslin, or the Vermont Overnight Camp also operated by the Barton Center right here in South Hero, VT on the camp Ta-Kum-Ta camp grounds. This year's Vermont Overnight Camp will be July 8-13 2018.
Details

Published: 03 January 2018

03 January 2018

Volunteers packed 920 bags of food in Wilmington Vermont on Friday December 15th, and drove them to recipients throughout the Deerfield Valley on Saturday morning.
Holiday Baskets is an annual event that helps fill the cupboards of over 150 families in nine southern Vermont towns, from Halifax to Wardsboro. Poinsettias of cheer are delivered to several dozen more families and individuals, too. In all, over 450 are served every December.
Details

Published: 22 December 2017

22 December 2017

2017 Wreath Raffle Winner!
Carrie Mol of Brandon is the 2017 winner of the Brandon-Forestdale Lions Club Wreath Raffle. Her winning entry was drawn Tuesday night, December 19, at the club annual Christmas dinner at the Neshobe Golf Club.
Mol is pictured holding the wreath as presented to her by Lion Shirley Smela.
The Wreath Raffle raised over $1100 in ticket sales with all proceeds used to fund local community programs administered by the Brandon-Forestdale Lions Club.
Details

Published: 22 December 2017

22 December 2017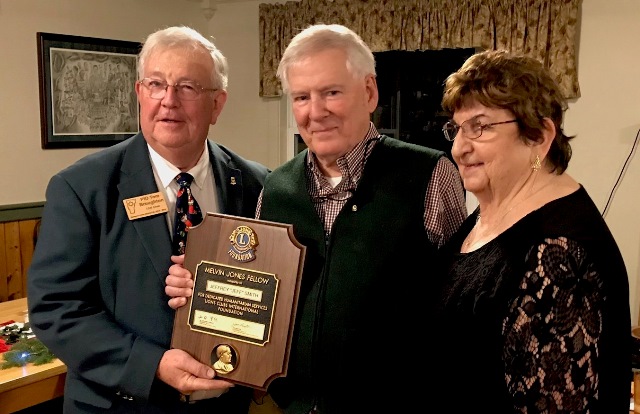 Honoring 40 Years of Community Service
Brandon-Forestdale Lions Club honored charter club member Jeff Smith of Brandon for his service to the Lions and the Brandon-Forest Dale community. The award was presented at their December 19th dinner meeting by Past International Director (PID) Tom Broughton who listed Jeff's accomplishments to an appreciative audience. In the photo Jeff is shown with PID Broughton and Brandon-Forest Dale Lions Club President Patti Reynolds.
Details

Published: 13 December 2017

13 December 2017
Toys for Vermont Kids
Collection barrels are out, and toys are being donated, says Lions Committee Co-Chair Sue Hays. The donated toys will be distributed through local food shelves and will make Christmas brighter for families in Vergennes and Bristol communities.
This year the Vergennes Lions are partnering with the Northland Jobs Corps. Job Corps students are assisting with collecting, sorting and distribution of toys. Job Corps is also providing a room on their campus to function as a central collection and distribution point. Co-Chairs Lion Roger and Sue Hays (pictured here with Job Corps student Jubilee Thorburn) are happy to have the new easily accessible area and many helping hands.
Details

Published: 11 December 2017

11 December 2017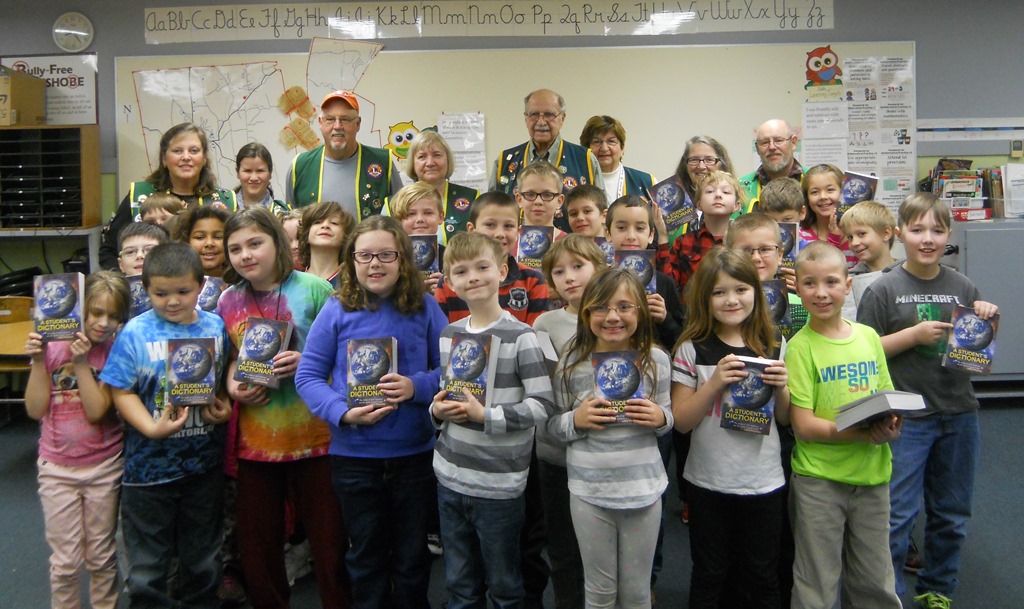 Third graders from Neshobe Elementary School received their annual Student's Dictionary from the Brandon/Forest Dale Lions Club on December 5th. Pictured with the third graders are Club members Mary Shields, Stacy Shields, Bruce Blanch, Shirley Smela, Burt Reynolds, King Lion Patti Reynolds, Evie Reed, and Harold Reed.