Club Toolbox...
Tools for Club Program Development
Details

Last Updated: 04 May 2019

04 May 2019

Usable Glasses Give New Life
Millions of people living in low and middle income countries lack access to basic eye care services. Lions have recognized the urgent need for corrective lenses and collect usable glasses in their communities to support the Lions Recycle For Sight Program.
District 45 consolidates all of the glasses collected by Vermont Lions and delivers them to the Lions Eyeglass Recyling Center (LERC) in West Trenton, NJ. From there they are refurbished and issued free of charge to Lions vision missions throughout the world.
What can your club do?
1) Designate an Eyeglass Recyling Chairman and committee members. Share that information with the This email address is being protected from spambots. You need JavaScript enabled to view it..
2) Build or purchase eyeglass collection boxes
3) Set up Collection Locations with Local Partners: Invite community partners such as local businesses, schools, optical shops, libraries, places of worship, city administrative centers and eye care professionals to host eyeglass collection boxes. Maintain contact with these partners and schedule regular pick-ups. Let the This email address is being protected from spambots. You need JavaScript enabled to view it. know your collection locations so that we can update our online Donation Box Locator.
3) Consolidate your collected eyeglasses. Remove any cases, and non-glasses items. The LERC volunteers process over a million glasses each year. Cases and trash slow them down. Please give your fellow Lion a break and ship only eyeglasses. The LERC will accept ANY TYPE of glasses, even non-perscription glasses and sunglasses. They will not accept individual lenses.
4) Count your consolidated glasses and seal them firmly in a sturdy cardboard box (they have a long way to go). Ensure you write the total count and your club's name on the outside of the box before you seal it. Glasses recieved without a total or clubs name written on the box will not be counted in your club's total for competition purposes.
5) Bring your glasses to any District Cabinet meeting or make arrangements to drop them off at the District Eyeglass Recycling Chairman's home.
6) Promote your efforts! Recognise your local partners and your club members for their efforts.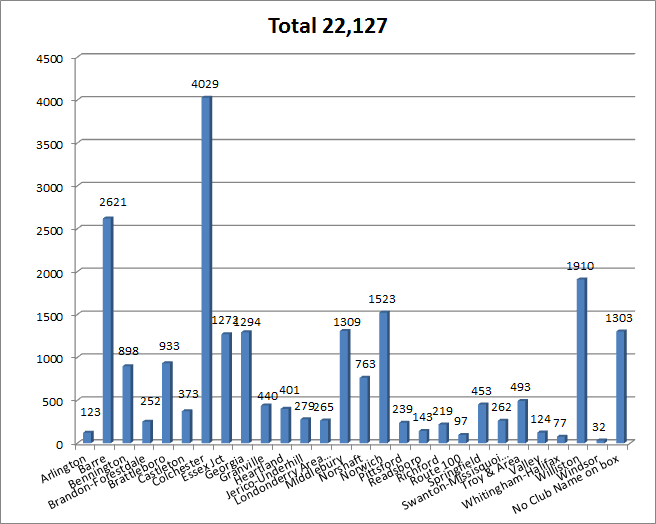 Distrit FY 2017 Results: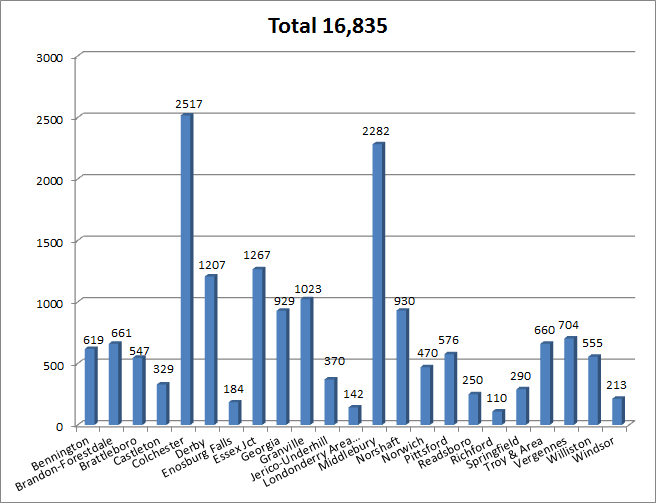 District FY 2016 Results: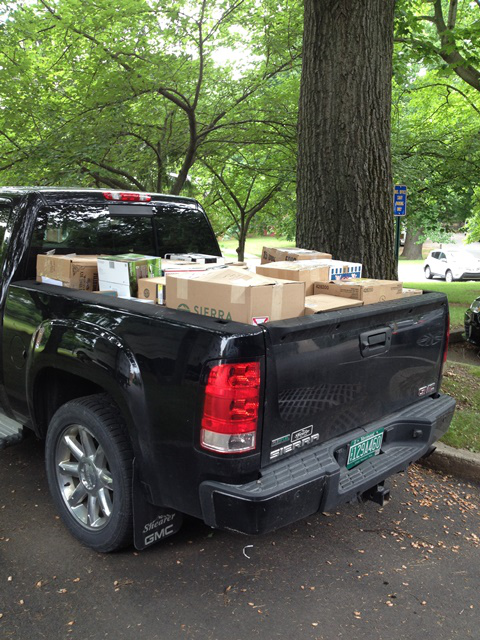 From July 2016 to June 2017 Vermont Lions members have been quietly collecting eyeglasses from the public and stashing them away in the basement of Vergennes Lion Brad Howe, the chairmen of the effort. On June 14th they delivered about 15,000 pair of eyeglasses to the New Jersey Lions Eyeglass Recycling Center (LERC) in West Trenton, NJ. Over three thousand of those glasses were from the Lions club donation boxes in Brandon, Middlebury and Vergennes. The Lions thank you for donating your used, even broken eyeglasses, sunglasses and readers.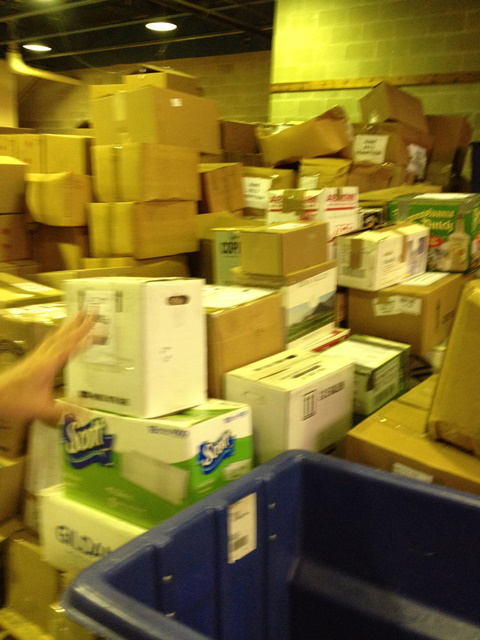 Lions volunteers at the LERC process 1.2 million glasses each year. Their process starts with an initial sort of incoming glasses. Prescription glasses that are undamaged are sorted for further processing. Damaged glasses and all non-prescription glasses are sorted into either plastic or metal recycling bins. They send the plastic and metal to California for recycling and use the funds earned to operate the facility. Their place is big…about the size of a football field. Their pile in the photo is the volume they typically process every six weeks.
Next step is to send the good prescription glasses through a sanitization process. Each pair of glasses is then measured with a lensometer, individually bagged with the prescription data, and finally stored by prescription until called upon for distribution.
The New Jersey Lions Eyeglass Recycling Center (NJLERC) is a 501 (c)3 volunteer organization that provides recycled eyeglasses to Lions and other mission groups who perform vision screening and/or eye examinations in developing countries and the United States. The NJ LERC distributes 50,000 to 100,000 glasses annually. Glasses are distributed for free to Lions missions around the world. Other organizations are charged a handling fee of $5 for each 800 pair of glasses.