44th Annual Twin State Soccer Kick Off Banquet
Date:
Sunday, March 25, 2018 1:00 pm - 3:00 pm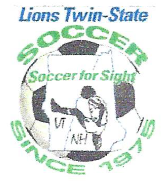 The annual Kick Off Banquet for the Lions Twin State Soccer Association, leading to our matches at Castleton University, July 21st is scheduled for Sunday, March 25, 2018 at 1:00 in the afternoon at the Elks Club in Lebanon, NH (150 Heater Rd, Lebanon, NH). You are invited to attend by downloading the sign up sheet HERE.
It will be a full day for Lions. To save an extra trip, the March meeting for the Association Directors is set for 9:30 am that same day at the Elks Club. All Lions are welcome. Coffee and donuts will be provided.
At 10:45 am the Twin State players and coaches will be arriving for team meetings and photos. At this time, we will need assistance to help greet the players and guests, get them going in their right direction. At 1:00 pm we will sit down to the banquet and the players and coaches.
Here's the full shedule:
9:30am Directors meeting & Director pictures
10:30-11:15 Players, coaches and managers arrive and check in at the special registration desk set up in the main lobby.
11:15-Noon New Hampshire men and women team photo session. Vermont men and women team meetings
11:30am-12:30pm Meeting for the parents and guests
Noon-12:45pm Vermont men and women team photo session. New Hampshire men and women team meetings

l:00 Annual Kick-Off Banquet - Introduction of Lions Twin State Cup players and coaching staff
3:30 Brief meeting of the Coaching Staff and Officials for both states
You may be interested in adding our calendar to Outlook, Google calendar or another calendar system that supports the iCal format.
Subscribe to the D45 Lions Club Calendar
(This will open a new window allowing you to attach the calendar to your Outlook,or other mail or iCal application.)