Capture the Region 1 Traveling Lion in Essex
Date:
Wednesday, February 27, 2019 6:00 pm - 7:00 pm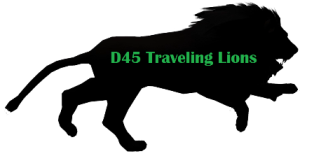 Essex Jct. Lions will host Tucky, the Traveling Lion, on February 27th at The Essex, Essex Way, Essex Jct. Vt. 6 pm social time and 6:30 dinner/meeting begins. $25 full buffet dinner, inclusive of tax and tip. Please contact PDG Betsy MaGee at lionbetsy2000@yahoo.com or 802-578-8188 by HEADCOUNT DEADLINE FEBRUARY 24th, SUNDAY.
You may be interested in adding our calendar to Outlook, Google calendar or another calendar system that supports the iCal format.
Subscribe to the D45 Lions Club Calendar
(This will open a new window allowing you to attach the calendar to your Outlook,or other mail or iCal application.)