Capture the Region 3 Traveling Lion in Heartland
Date:
Monday, March 18, 2019 6:30 pm - 7:30 pm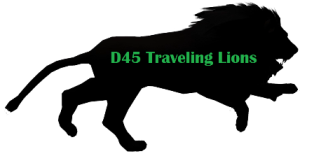 Region 3 Traveling Lion (Sir Charles): is available for capture at the Heartland Lions Club meeting on March 18th at 6:30pm at the South Royalton "Building A Local Economy (BALE) Site. Thats 35 S Windsor St. Dinner will follow the meeting at the Five Olde Tavern. Contact Lion Carol Green (vtlioncarol@gmail.com) at least 72 hours in advance to be eligibie (802-291-3750).
You may be interested in adding our calendar to Outlook, Google calendar or another calendar system that supports the iCal format.
Subscribe to the D45 Lions Club Calendar
(This will open a new window allowing you to attach the calendar to your Outlook,or other mail or iCal application.)