Capture the Region 3 Traveling Lion in Springfield
Date:
Tuesday, January 08, 2019 6:00 pm - 7:00 pm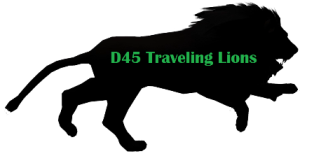 Region 3 Traveling Lion (Sir Charles): is available for capture in Springfield at our meeting on Tuesday Jan 8 at 6:00 pm at the VFW. Dinner is $13 and drinks are available if you want to arrive a bit earlier to socialize. In you plan to come, please contact Char Osterland at 802-885-5115 or charmf@vermontel.net by Friday January 4. I haven't heard if Sir Charles has discovered the Trout River Brewery yet, but we are concerned that if he does, he may never leave!
You may be interested in adding our calendar to Outlook, Google calendar or another calendar system that supports the iCal format.
Subscribe to the D45 Lions Club Calendar
(This will open a new window allowing you to attach the calendar to your Outlook,or other mail or iCal application.)