Capture the District Traveling Lion in Brandon-Forestdale
Date:
Tuesday, January 15, 2019 6:00 pm - 7:00 pm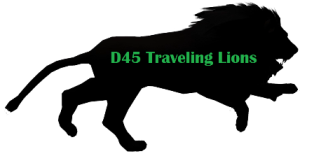 District Traveling Lion (Lucky): located with the Brandon-Forestdale Lions. Lucky will be available for capture Tuesday, January 15th at the United Methodist Church in Brandon. Doors open at 6:00 with dinner at 6:30. Clubs planning on attending should call Lion Patty Reynolds (247-8834) with number of people attending by January 12th.
You may be interested in adding our calendar to Outlook, Google calendar or another calendar system that supports the iCal format.
Subscribe to the D45 Lions Club Calendar
(This will open a new window allowing you to attach the calendar to your Outlook,or other mail or iCal application.)