Date:
Saturday, November 03, 2018 9:15 am - 3:00 pm
Download Cabinet Meeting Registration Here
Your District Team has worked hard to plan a fall conference to offer you information and fun. Plan to join us for a full day of Lions working and playing together on November 3. Look over the agenda and plan to be in Colchester for the day. Bring your ideas and comments to share. See you at the Super Raffle!
Agenda for November 3 Cabinet Meeting
8:00 - registration – deliver the Peace Posters
8:30 – Honorary Session
9:15 – Meeting begins / Welcome/
9:20 – Break out sessions
Blanket Service Project - all morning

Register for Blanket project

Here

VLC meeting
9:20 - 10:15 Break Out Sessions
Membership growth and new clubs
Treasurer Issues
Fundraising Ideas
Leadership development
Eyeglasses assistance program
Round Table on issues and concerns
10:15 – 10:30 Coffee Break
10:35-11:15 Sessions Repeated to enable change of group
11:30 – 12:00 Speakers: Dr. Heather Brandeen and Julia Conner LICSW of UVM Children's Hospital
12:00 – 1:00 – Lunch
1:15 – Cabinet Meeting Begins
Sec. Report / Roll Call
Treas. Report
Honorary Report
Global Action Team: Leadership / Membership / Service
Green Mt. Lions Camp
Peace Poster Contest
Vision Screening
VLC Annual General Meeting
NELC
LCIF Campaign 100
Communique Editor
May Conference
Comments from the Floor.
50/50 - 200 Club – Money Tree
DG Thanks
3:00 finish General Meeting
3:10 – 4:00 – Zone Chairs meet with DG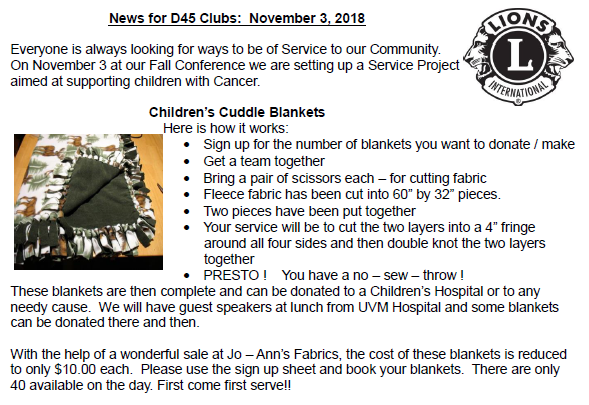 You may be interested in adding our calendar to Outlook, Google calendar or another calendar system that supports the iCal format.
Subscribe to the D45 Lions Club Calendar
(This will open a new window allowing you to attach the calendar to your Outlook,or other mail or iCal application.)