Capture the District Traveling Lion
Date:
Wednesday, February 21, 2018 6:30 pm - 7:30 pm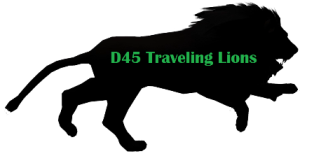 District Traveling Lion (Lucky): located with the Vergennes Lions is available for capture on Wednesday, February 21, at 6:30 at the American Legion on Armory Lane. Meal cost is $17. Travelers must contact PDG Larry Simino, 802-759-2448 NO LATER than 5 p.m. Sunday, February 18.
You may be interested in adding our calendar to Outlook, Google calendar or another calendar system that supports the iCal format.
Subscribe to the D45 Lions Club Calendar
(This will open a new window allowing you to attach the calendar to your Outlook,or other mail or iCal application.)