Details

Published: 19 May 2019

19 May 2019
What's a Norwich Lions Meadow Muffin?
For the purposes of this article - it's a $20 Raffle Ticket that will allow you to win a first prize of $1,000, or a second prize of $500.
This was started by the Norwich Lions in 1994 and is now one of their biggest fundraisers. All of the funds generated through this raffle will be returned to the community through Norwich Lions community service projects.
If you are interested in buying a Norwich Lions Meadow Muffin please see any Norwich Lions Club member that you may know or phone 802-829-9133 and leave a message. Sorry no credit cards.
Now on to the back end of things… a true Meadow Muffin (not the raffle ticket you purchased) is defined in the dictionary as a "cow pat". Other names include: cow chip, cow patty, or cowpie. For the really obtuse here's the full definition: "The digested residue of a cow excreted as a flat piece of dung".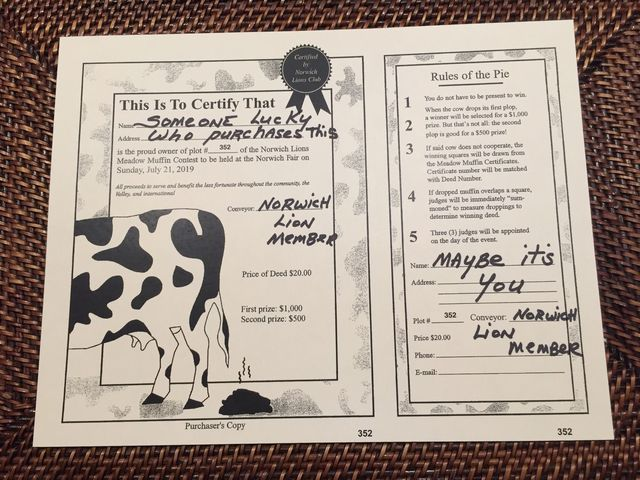 Your raffle ticket corresponds to a grid on the field where the Norwich Lions will release a single cow. When the cow "does what cows do" the holder of the raffle ticket corresponding to that grid will win. The first cow pat is the $1,000 winner, the second cow pat is the $500 winner. The cow will choose the winners on July 21st, 2019 at the Norwich Fair.