Details

Published: 03 January 2018

03 January 2018

Volunteers packed 920 bags of food in Wilmington Vermont on Friday December 15th, and drove them to recipients throughout the Deerfield Valley on Saturday morning.
Holiday Baskets is an annual event that helps fill the cupboards of over 150 families in nine southern Vermont towns, from Halifax to Wardsboro. Poinsettias of cheer are delivered to several dozen more families and individuals, too. In all, over 450 are served every December.
The event is timed for the Holidays when many may be running low on supplies – and struggling to pay medical bills, for food, and heat. This kind of giving is gratifying and warmly received – lifting spirits for all. In order to make the biggest impact possible in fighting food insecurity, food is purchased mainly from the Vermont Food Bank. The Whitingham-Halifax Lions is a partner with the Vermont Food Bank, and obtains literally tons of food at extremely affordable pricing. This stretches the ability of the Lions to fight food insecurity "to the max."
Funding is provided primarily by the Lions' Hungry Lion Bike Tour fundraiser. In 2017, the bike tour eclipsed $30,000, despite cold rainy bicycling the day of the event (which is always the last Saturday in September). It raises enough money to fund Holiday Baskets and make significant contributions to the Deerfield Valley Food Pantry. In addition, the bike tour is helping to establish a local branch of The Gathering Place, which is an adult day center. Not bad for a 24-member Lions club!
Holiday Baskets has been a Whitingham-Halifax Lions tradition for decades. After tropical storm Irene's aftermath, the Lions asked the local Rotary club to join forces, and expanded the coverage from Whitingham, Jacksonville, and Halifax to another half dozen villages. Last year the Readsboro Lions brought deliveries to another dozen families in that village. And for 2017, volunteers from Brattleboro's Sunrise Rotary helped pack and deliver.
Visit and "Like" the Whitingham-Halifax Lions, as well as the Hungry Lion Bike Tour, on Facebook – and learn about the Holiday joy being spread in the Deerfield Valley.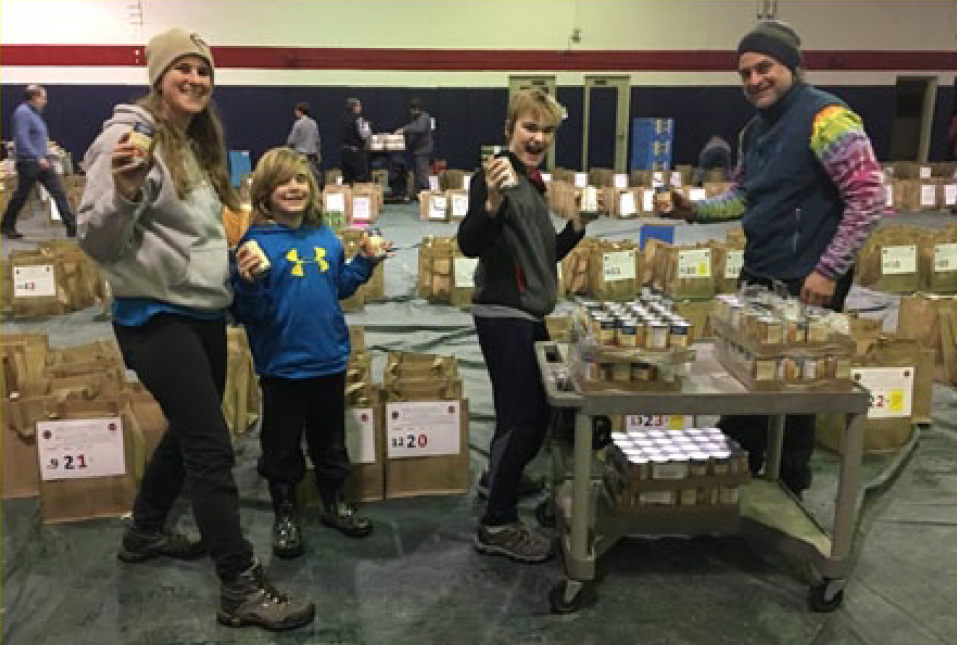 The Myska Family, including Sage, Jude, River, and Matt, participate in loading food staples into bags that will be distributed throughout the Deerfield Valley.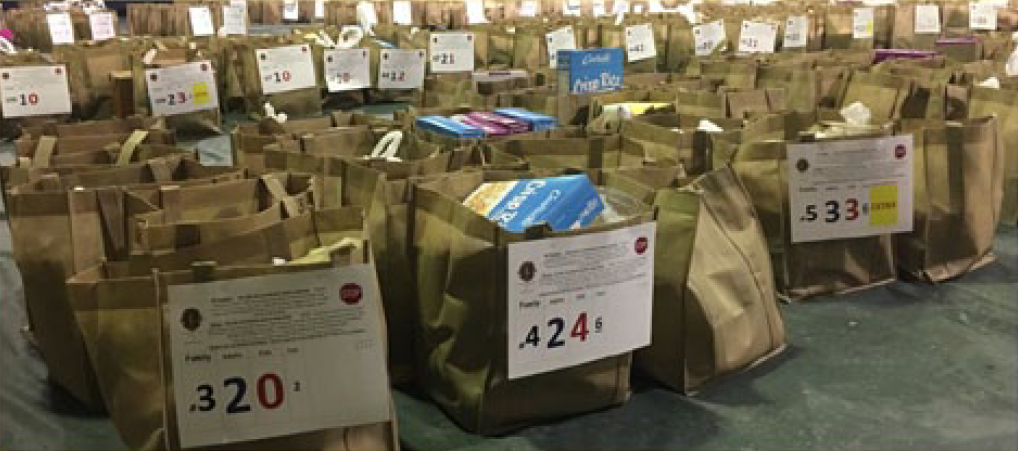 Bags upon bags of food staples and produce. Turkeys, fresh chicken, and Cornish hens are given, too.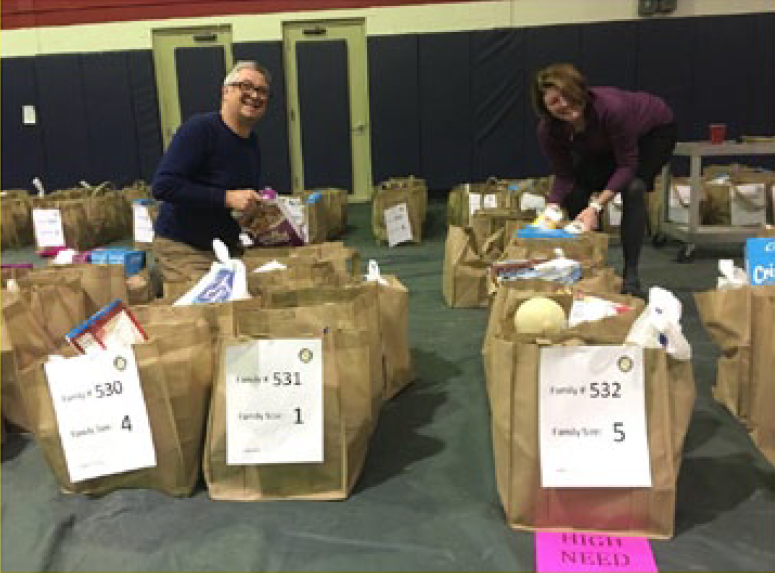 Charlotte Pavia, Nancy Mullen, Crista Gannon, Alice Greenspan (left to right) take a break from packing bags for Rotary and Lions.(The sleds, along with carts, help transport cases of food around the gym.)