Details

Published: 25 February 2018

25 February 2018
Thanks Castleton Lions for great fun making memories with family and friends on a beautiful Vermont day!
Castleton Lion's Annual Ice Fishing Derby celebrated a 40th birthday on February 17th and 18th with hundreds of fishers, families, and friends at Crystal Beach on Lake Bomoseen. The weekend event followed an unusual winter thaw just days prior, but conditions on the ice were excellent. Competitors vied for the heaviest catch of Bass, Pike, Perch or Trout.
This year Fred Shaw of Whitehall, NY caught the winning Perch; angler Matt Muratorri of Hydeville, VT brought in the top Trout; Randy Shaw of Benson, VT wrestled in the leading Northern Pike; meanwhile hometown hero Kylie Eagan of Castleton, VT bagged the winning Bass. See top four in each class here.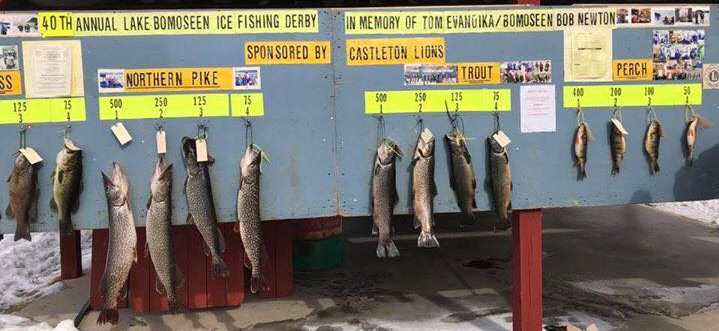 All anglers were also entered into a raffle for prizes donated by community support from more than 90 local businesses. In total over $6,500 in prizes were shared between anglers. John Lowell won the "BONUS BOARD BUCKS" and is pictured holding his check. Eric Splatt won the Ion Auger donated by Tom's Bait and Tackle. (Thanks also to Tom's for these photos and results)
Read the Rutland Herald's story: "Lake Bomoseen Ice Fishing Derby turns 40"