Details

Published: 21 June 2017

21 June 2017
What's in the Truck?
by Lion Randy Bigelow
From July 2016 to June 2017 Vermont Lions members have been quietly collecting eyeglasses from the public and stashing them away in the basement of Vergennes Lion Brad Howe, the chairman of the effort.
On June 14th they delivered about 15,000 pairs of eyeglasses to the New Jersey Lions Eyeglass Recycling Center (LERC) in West Trenton, New Jersey.
Lensometer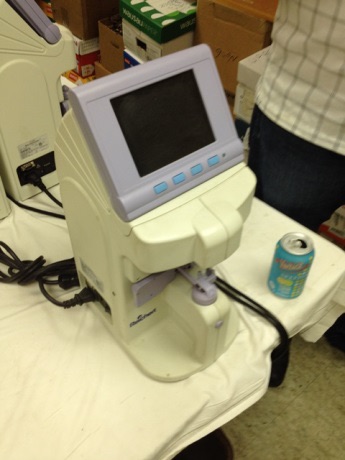 The Lions thank you for donating your used, even broken eyeglasses, sunglasses and readers.
Lions volunteers at the LERC process 1.2 million glasses each year. Their process starts with an initial sort of incoming glasses. Prescription glasses that are undamaged are sorted for further processing.
Damaged glasses and all non-prescription glasses are sorted into either plastic or metal recycling bins. They send the plastic and metal to California for recycling and use the funds earned to operate the facility.
Their place is big…about the size of a football field. Their pile in the photo (at right) is the volume they typically process every six weeks.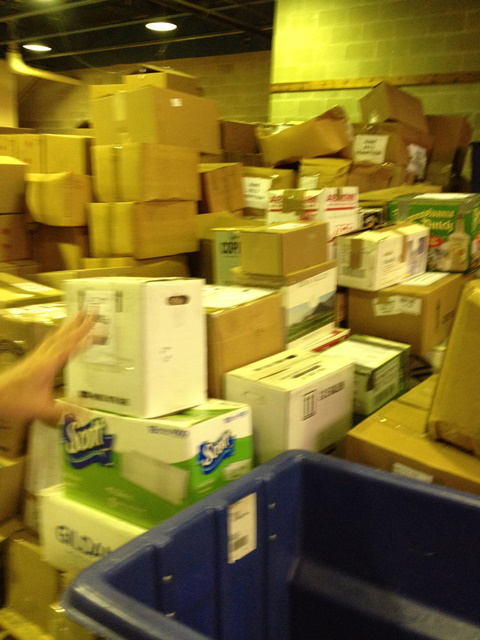 ...then we saw the LERC
Next step is to send the good prescription glasses through a sanitization process. Each pair of glasses is then measured with a lensometer, individually bagged with the prescription data, and finally stored by prescription until called upon for distribution.
Alan Brewer, President, NJLERCThe New Jersey Lions Eyeglass Recycling Center (NJLERC) is a 501 (c)3 volunteer organization that provides recycled eyeglasses to Lions and other mission groups who perform vision screening and/or eye examinations in developing countries and the United States.
The NJ LERC distributes 50,000 to 100,000 glasses annually.
Glasses are distributed for free to Lions missions around the world.
Other organizations are charged a handling fee of $5 for each 800 pair of glasses.